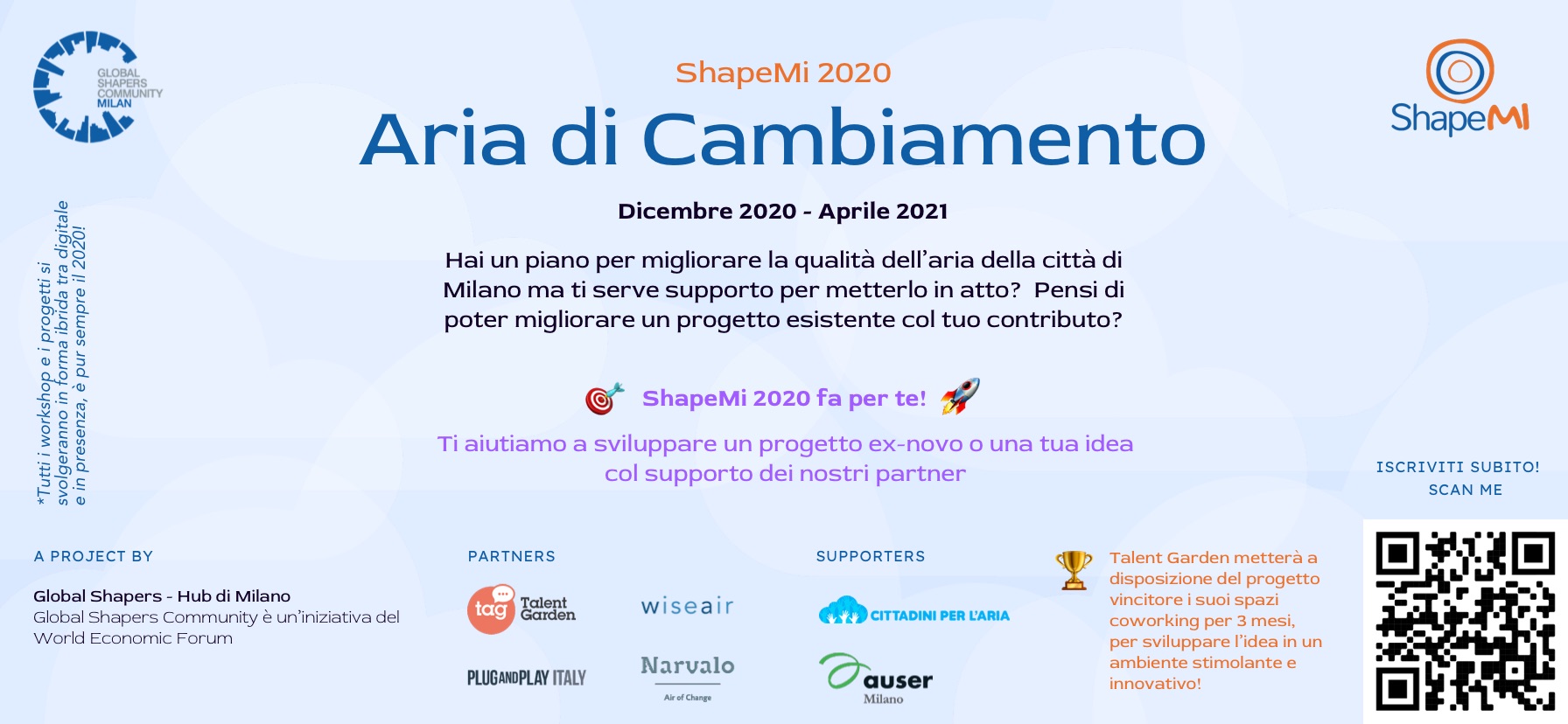 ShapeMi – Change is in the air
Do you have an idea to improve the air quality in Milan but you need support to implement it? Or do you think you can improve an existing project? Do you want to get in touch with local realities that are making a difference?
ShapeMi 2020 is here for you!
We help you develop a new project or work on an idea of yours with the support of our partners. ShapeMi is a project aimed at teams of students and young professionals, offering them a concrete opportunity to identify and implement innovative solutions to support the sustainable urban transformation processes of the city of Milan, through a "solutions challenge".
What will you be able to do with your team?
1. Investigate the applicability of international best practices to the city of Milan
2. Analyse existing projects and challenges of the Municipality of Milan and propose solutions to implement
3. Develop a new project
How is the program structured?
The project consists of three phases and will lasts 3/4 months in total:
– The system mapping phase: teams will research the challenge, to better understand the context and the possible drivers of change;
– Brainstorming phase: teams will have brainstorming meetings (hackathon style) to identify potential solutions;
– Final phase: teams will work on the development and validation of their idea.
At the end, a jury will evaluate the different proposed solutions and will announce the winning team. Our partners are innovators, organisations and companies ready to support your idea.
Talent Garden will make its co-working spaces available to the winning project for 3 months, to develop the idea in a stimulating and innovative environment.
Plug and Play Italy will provide 6 hours of exclusive mentorship for a group that it will judge worthy, at the end of the ShapeMi path.
Project organisers:

Global Shapers Milano
Global Shapers Community is an initiative of the World Economic Forum
*All the workshops and project meetings will take place both in presence and online, after all it's 2020!

Please check the attachment for the complete kick-off deck. For more informations contact: info@globalshapersmilano.com
SIGN UP NOW!
Scan the Qr code or go to this link to subscribe: https://bit.ly/2SRgo7V