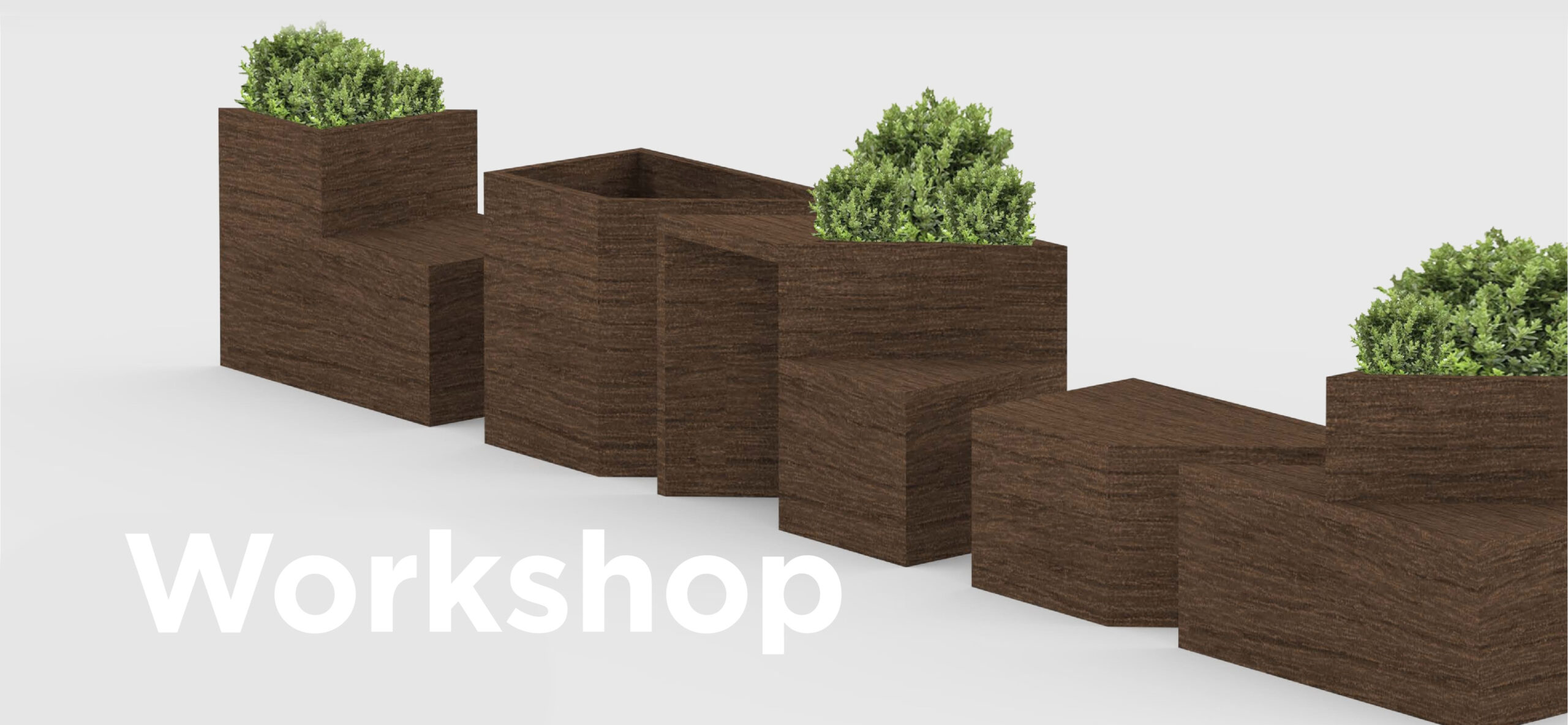 The task of this workshop is to to design an artefact, an intervention, and/or an experience from one of these three aspects of green infrastructure:
A] Soil Care, Composting, Fermentation
B] Trees, Microparks, Edible Forests
C] Microbiome Inspired Green Infrastructure (MIGI)
The designed outcome should enhance the interdependence of all life in practical ways.
Popup garden
Pop Up Garden is a project that aims to symbolise the need to care for and protect nature by creating green areas in Milan. To this end, trapezoid-shaped modules have been designed which, thanks to their combinations, allow human beings to connect with nature, benefiting citizens as well as animals and plants. In addition to the dual functionality of these modules, thanks to a donation system in collaboration with the SUGI group, the connection and user experience will be more direct and collaborative.
Group members:
Lesly Barahona, Nicolás Martí, Carmen Darós, Marta Lodi
Dirade
Driade aims to give nature her voice back by connecting people with the internal sound of the trees, using an immersive product-service-system. Sensors on trees capture their inner sounds and convert it to a melody, which is influenced by how people interact with the tree. This symphony can be experienced via headphones or speakers by connecting an app to the system. Driade emphasizes the continuous and mutual influence that human beings and other species exert on each other.
Group members: 
Alessia Pinna, Clarissa Cuoccio, Heitor Lobo Campos, Innocenzo De Risola, Mika Lessmann
Micro detective
Simple DIY construction of a makeshift microscope encourages urbanites to collect and observe microbial samples. An app records the microscope sessions, with AI included in to recognize and classify the observed species. Finally, translation of microscopic data allows diving into the microbial sample in an immersive VR experience.
Group members: 
Julian de Freitas, Leo Olivier Ocando, Max Park, Joshua Seckerdieck
Bird Hospitality service in the Bovisa Campus
Animals are adapting to city life as they're being displaced by the loss of their natural habitats.The project explores the design of connected micro-environments for birds that are placed on the empty balconies of district 9 of Milan, citizens can become volunteers by hosting the birds 'suite cabins', which allows being a member of a specific digital community that brings together the passion of bird lovers and the ecologist expertise. These product-service solutions aim to increase and restore biodiversity in the locality and find new relations between human-animal interactions.
Group members:
Isabelle Erdmann, Jisoo Kim, Joseph Varanese, Jing Zhang, Siddhant Bothra
The Human Variable
THV is a speculative museum installation that aims to question people about the relationship between man and nature, in particular the need to maintain a mycobacterial balance. Three possible actions are represented in the three rooms, the aim of which is precisely to achieve this balance, and in each room the percentage of participation of the two agents varies.
Project members:
Monica Arriaga, Federico Bassi, Lorenzo Dondi, Nicola Laforgia, Caterina Regni, Francesca Zeccara
Docenti:
John Thackara, Roberta Tassi
Collaboratori:
Caterina Castiglioni