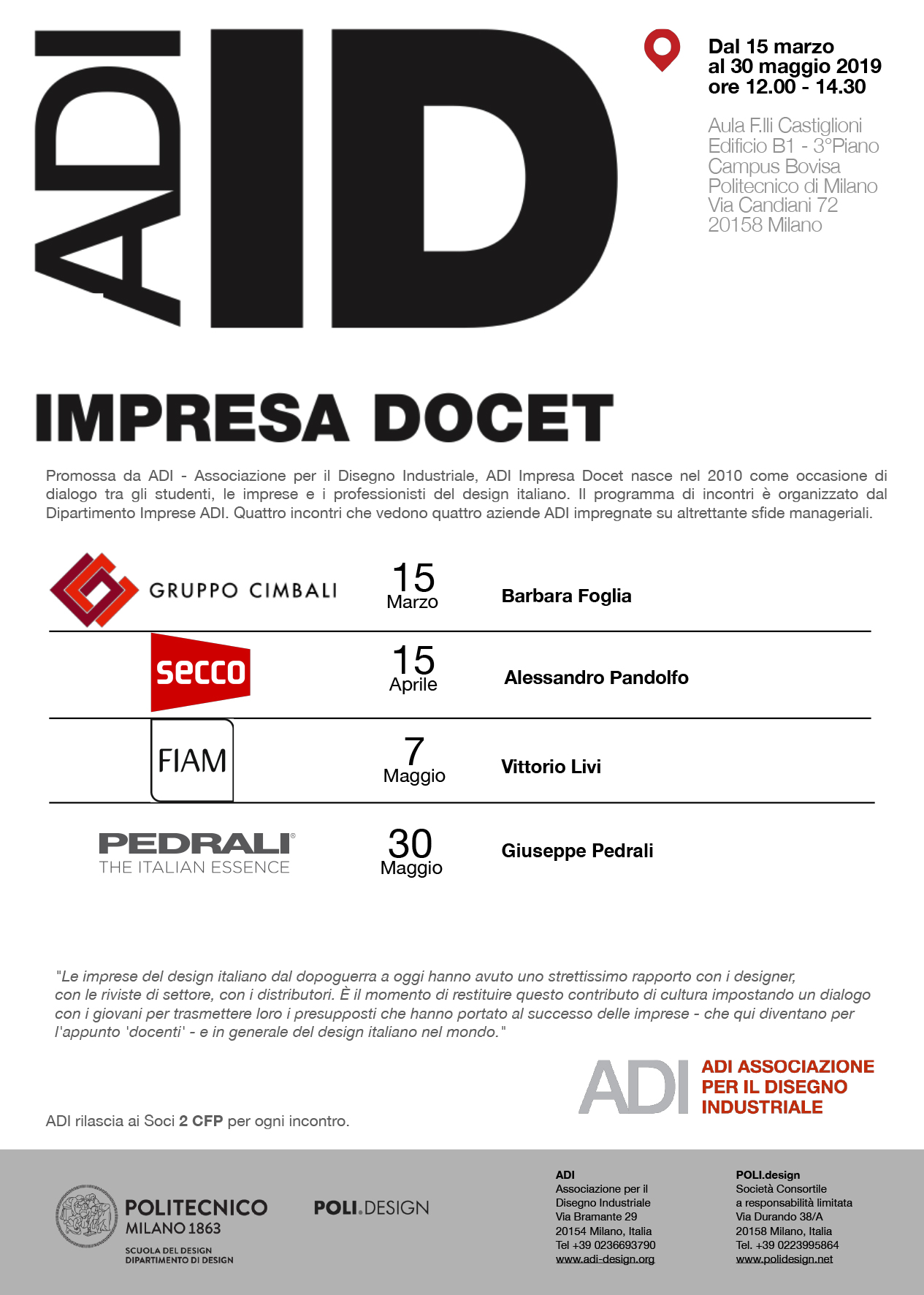 The Design School, in collaboration with the Design Department, Polidesign and ADI, organizes a new round of ADI meetings IMPRESA DOCET in which leading companies, who have put the design among the levers to compete, will discuss the challenges transforming a project into a product: a unique opportunity for dialogue between students, businesses and professionals in Italian design.
The meetings are open to everyone: the invitation is to participate as an opportunity to meet the labour market!
The scheduled meetings:
GRUPPO CIMBALI: Friday 15th March 12.30-14.30 (AULA CASTIGLIONI)
SECCO: Monday 15th April 12.30-14.30 (AULA CASTIGLIONI)
FIAM: Tuesday 7th May 12.30-14.30 (AULA CASTIGLIONI)
PEDRALI: Thursday 30th May 12.30-14.30 (AULA CASTIGLIONI)
The meetings of ADI Enterprise Docet are part of a new Design School project named "Explorer Design", which starts this academic year and which will lead to the validation of 3 extra-curricular CFUs. to qualify for extracurricular CFU recognition students must attend a series of events and certify their participation through a document called "passport"; More details can be found shortly on the School's website. (http://www.design.polimi.it/it/design-explorer/).
the participation to one of the four events will give to students 5 points.
the participation to all the four events will give also an additional bonus of 10 points.
Therefore: all students have to admit each seminar by email to the link they will receive (this is for the first seminar and print in each seminar a "RECORDING DOCUMENT" to receive the stamp.
The registration card, complete with the stamps received at the 4 seminars, will be enclosed with the "passport" that you will need to fill in and deliver according to how you will be shown with the launch of the "Explorer Design" project.