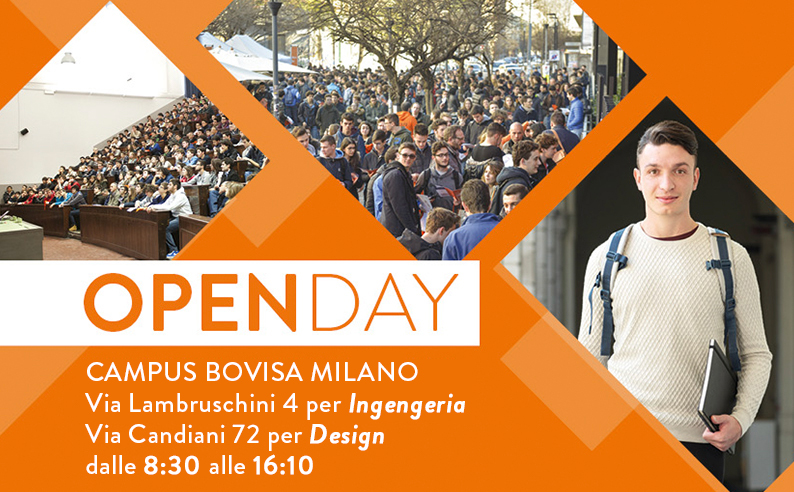 Saturday 6 April 2019, from 9:00 am to 4:10 pm, you will be able to watch the presentations of the study courses and admission tests for all the three-year degree courses in engineering, design and architecture and the single-cycle master's degree course in Construction Engineering architecture. Here you can see the schedule of the presentations.
In addition, there will be information booths, open to the public from 8:30 am to 3:15 pm, where you can talk to our professors and students, show where you can touch the Polytechnic world.
It will also be possible to visit the student service stands, to get information on: housing, libraries, scholarships and financial support, the graduate community, disability and dyslexia, international experiences, matriculations, work and internships, sports.
Appointment at the Bovisa Campus in Milan: via Lambruschini 4 for engineering courses – via Durando 10 for architecture and design courses. Here you can view the maps of the maps of both campuses.
To participate, you must complete the mandatory subscription form.
You can only follow the presentations to which you are registered: 20 minutes before the start time you went to the "registered point" of the presentation you have chosen. The staff members will verify your reservation via the QR code you received via email.
Even carers, if they want to attend the presentations, must register.
For more info, click here to consult the Poliorientami website.
If you want to get an idea of ​​the atmosphere of the day, check below the presentation video from last year!