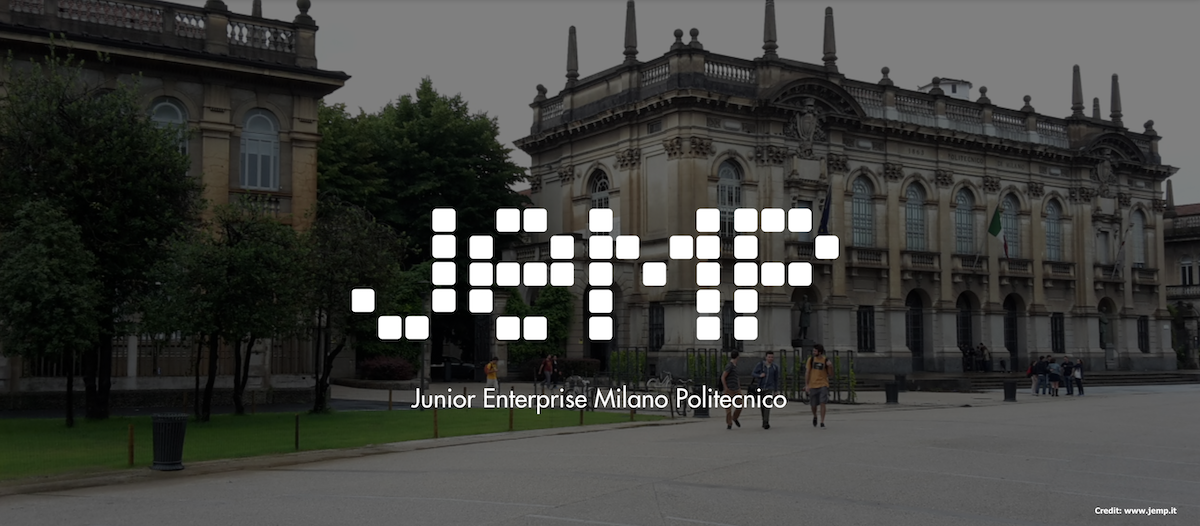 Do you want to get involved and challenge yourself by working on real projects in close contact with companies?
Join the webinar on Thursday 4 March at 18.00 and get to know JEMP! (completely in Italian language)
JEMP is the Junior Enterprise of Politecnico di Milano: we are an association of design and engineering students and we collaborate with multinationals, SMEs and Startups, following the model of a consulting company and offering business, marketing, IT and design services.
Every day at JEMP we are confronted with concrete projects, working side by side with students from different backgrounds and growing both professionally and personally. We are based on the "learning by doing" method and believe in comparing different professionals: heterogeneity is one of our values.
JEMP allows you to develop an entrepreneurial mindset and to enrich your career through the acquisition of hard and soft skills, which are increasingly necessary in a fluid and ever-changing world of work. During the webinar you will have the opportunity to learn how we are structured, understand how we work through case studies and interactive activities, but most of all you will have the chance to discover the advantages of being a Junior Entrepreneur! Moreover, you will be able to talk to students like you who have decided to get involved and undertake a path of training and growth at JEMP. Don't miss this chance to get in touch with the world of work and make a difference!
If you want to better understand what we are talking about, we are waiting for you on Thursday 4 March at 18.00 at the following link:
Time: 4 Mar 2021 06:00 PM Rome
Enter the meeting in Zoom
https://polimi-it.zoom.us/j/84698848141
Meeting ID: 846 9884 8141
(The event will be held in Italian language and will not be recorded)
For organisational reasons we ask you to register by filling in this short form (filling time 1′):
https://docs.google.com/forms/d/e/1FAIpQLSeEqX20OJrGrlbNnq-HI9Z9XG6uqsqpD5CfTGyTnQcro0Etfw/viewform
Thank you for your attention, we hope to see you on Thursday 4 March! In the meantime, we invite you to follow our social pages to stay updated and start getting to know JEMP more closely! Feel free to write us for any doubts or curiosity!
Elena, International Manager, Product-Service System Design
Roberto, President, Management Engineering