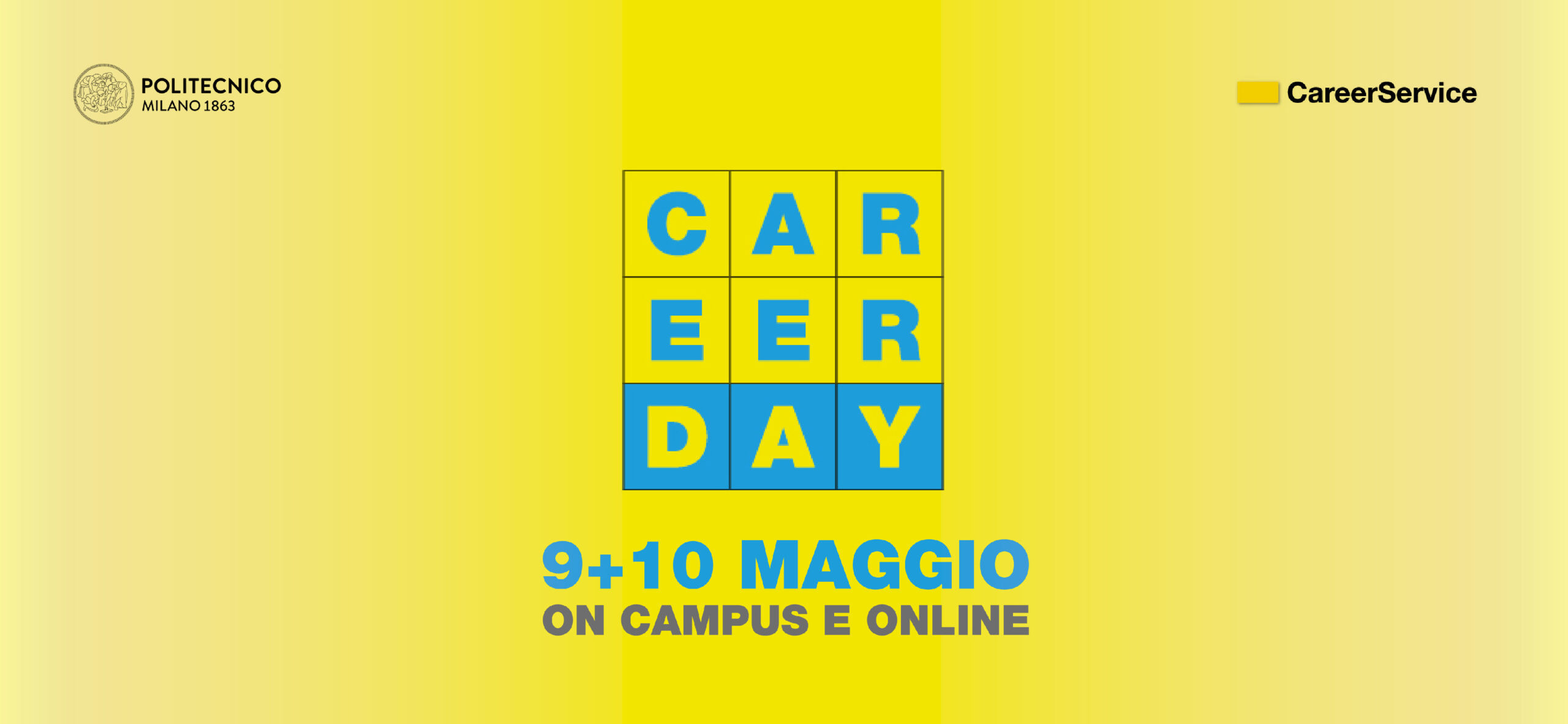 On 9 and 10 May, the CAREER DAY, the job fair dedicated exclusively to students and graduates of Politecnico di Milano (including PhD candidates and Master students).
This year the fair sees the participation of 153 companies from around 50 different sectors. The Doctoral School will also be present.
The event will take place for the first time over 2 days, simultaneously in presence – at Campus Bovisa – and online, on an ad hoc platform!  In particular, in presence students and graduates will be able to interact with the company representatives at the stands, while online they will be able to consult brochures/videos uploaded by the companies, apply for job offers/internships and take part in the company presentation webinars.
The participating companies are:
9 MAY
2RCapital, A2A, ABB, Agile Lab, ALTEN SpA, Amplifon, Antares Vision Spa, Asystel Italia, Atos, Autoguidovie spa, AYES, BTO S.P.A., CANNON GROUP, Captrain Italia, Carrefour Italia, COPAN, Covivio, Credito Emiliano, De'Longhi Group, Drees & Sommer, EDP Renewables Italia, Eldor Corporation, ENEL, Essity, EY, Fabbrica Energie Rinnovabili Alternative, Generali, Gruppo Concorde, Gruppo SIAD , Henkel, Hewlett Packard Enterprise, Humanitas, Hydro Extrusion Italy, iason, Innova S.p.A., Intesa Sanpaolo, Italdesign, ITW Appliance Components, JACOBS, KONE, KPMG, Kraft Heinz Company, LEONARDO, Lidl Italia, Luxottica, Maire Tecnimont, Medacta International SA, Microelettrica Scientifica S.p.a., Moviri, NHOA ENERGY, Novo Nordisk, NTT DATA Italia, Parker Hannifin, Philips, Pietro Fiorentini, ppi Italia , Protiviti, PwC, Reckitt, Saipem SpA, SC Johnson, Schindler, SDG Group, Siram Veolia, Snam, TeamSystem, Techedge, Techniconsult Group, Tenaris, Tenova S.p.A., Teoresi Group, TESMEC GROUP, Tetra Pak Packaging Sol. S.p.A., TRILLIUM PUMPS ITALY, VTU ENGINEERING, WEBUILD GROUP, WINDTRE.
10 MAY
A.B.S. S.r.l., ACCENTURE, Air Liquide, Alfa Laval, Ariston Group, Autostrade per L'Italia, Baker Hughes, Bettinelli F.lli SpA, BIP, BLM GROUP, BNP Paribas, BOSCH, Bracco Imaging SpA, Brandart Spa, BREMBO, BTicino S.p.A., Capgemini, CBRE Advisory, Ceva Logistics, CGT CATERPILLAR, Collins Aerospace, Crédit Agricole Italia Spa, Deda Group S.p.A., Deloitte, DOW, EDISON, Electrolux, ENGIE, Eni, EOS Solutions, Esselunga S.p.A., Facile.it, Falck Renewables, Fater S.p.A., FEDEGARI GROUP, Ferrero, Flowserve, GEA Group, GRUPPO CAP, GRUPPO CIMBALI, Gruppo IMQ, Gruppo Nestlé, Gruppo Zero Srl, Haier Europe, Hitachi Energy, IMPRESA PIZZAROTTI & C. S.P.A., Infineon Technologies, ING Bank, Inpeco, ITT, Klarna, LUTECH, MBS Consulting, Micron, NIER Ingegneria, P&G, Philip Morris Manufacturing & Technology Bologna, Poste Italiane, QINTESI SPA, Quantyca, REPLY, S.E.A. Milan Airports, SAINT-GOBAIN ITALIA, Sandvik Coromant, SIAE MICROELETTRONICA GROUP, Siemens Healthineers, SOLVAY, Sorgenia, TECHNOPROBE SPA, TheFork, TOTALENERGIES, Trevi Group, UniCredit, UNITEC S.p.A., VALVITALIA, WOOD.
As always, I look forward to your cooperation in promoting participation among your colleagues and students, HERE useful information and the registration section, registration is compulsory and closes on 5 May.